***
A farmer is sitting in the neighborhood bar getting soused. A man comes in and asks the farmer, "Hey, why are you sitting here on this beautiful day getting drunk?"
Farmer: Some things you just can't explain.
Man: So what happened that's so horrible?
Farmer:Well, today I was sitting by my cow milking her. Just I got the bucket about full, she took her left leg and kicked over the bucket.
Man: Ok, but that's not so bad.
Farmer: Some things you just can't explain.
Man: So what happened then?
Farmer: I took her left leg and tied it to the post on the left.
Man: and then?
Farmer: Well, I sat back down and continued to milk her. Just as I got the bucket about full, she took her right leg and kicked over the bucket.
Man: Again?
Farmer: Some things you just can't explain.
Man: So, what did you do then?
Farmer: I took her right leg this time and tied it to the post on the right.
Man: and then?
Farmer: Well, I sat back down and began milking her again. Just as I got the bucket about full, the stupid cow knocked over the bucket with her tail.
Man: Hmmm...
Farmer: Some things you just can't explain.
Man: So, what did you do?
Farmer: Well, I didn't have any more rope, so I took off my belt and tied her tail to the rafter. In that moment, my pants fell down and my wife walked in.....
***
The Little Girl And A Bird
Once upon a time, there was a guy sunbathing in the nude. He saw a little girlcoming towards him, so he covered himself with the newspaper he was reading. The girl came up to him and asked "What do you have under the newspaper, mister?" "A bird," the guy replied. The little girl walked away and the guy fell asleep. When he woke up, he was in a hospital in tremendous pain. When the Police asked him what happened, the guy replied, "Idon't know. I was lying on the beach, this girl asked me about my privates, and the next thing I know is I'm here." Police went back to the beach, found the girl, and asked her "What did you do to that naked fellow?" After a little pause, the girl replied, "To him? Nothing. I was playing with the bird and it spit on me, so I broke its neck, cracked its eggs, and set its nest on fire."
***
Randy the Rooster
A farmer has about 200 hens, but no rooster and he wants chicks. So, he goes down the road to the next farmer and asks if he has a rooster. The other farmer says, "Yeah, I've got this great rooster, named Randy; he'll service every chicken you've got. No problem." Well, Randy the rooster is a lot of money, but the farmer decides he'd be worth it. So , he buys Randy. The farmer takes Randy home and sets him down in the barnyard, giving the rooster a pep talk. "Randy, I want you to pace yourself now. You've got a lot of chickens to service here and you cost me a lot of money and I'll need you to do a good job. So, take your time and have some fun," The farmer said with a chuckle. Randy seemed to understand, so the farmer points towards the hen house and Randy took off like a shot... WHAM! He nails every hen on there. THREE or FOUR times each and the farmer is just shocked. Randy runs out of the hen house and sees a flock of geese down by the lake. WHAM! He gets all the geese. Randy's up in the pigpen. He's in with the cows. Randy is jumping on every animal the farmer owns. The farmer is distraught, worried that his expensive rooster won't even last the day. Sure enough, the farmer goes to bed and wakes up the next day to find Randy dead as a doorknob in the middle of the yard. Buzzards are circling overhead. The farmer, saddened by the loss of such a colorful animal, shakes his head and says, "Oh, Randy, I told you to pace yourself. I tried to get you to slow down, now look what you've done to yourself." Randy opens one eye, and looks towards the buzzards flying overhead and say's, "Shhh. They're getting closer..."
***
There was this guy who was on airplane, he had to go to the bathroom really bad.. Well every time he would go to the bathroom someone was always in it. So he finally asked the flight attendant if he could use the ladies room. She said, well sir I'm not sure if that would be a good idea, you see there are buttons in there. He says ,Oh please please I really have to go and I promise I won't push any buttons. So she tells him go ahead, just don't push any buttons. So he goes in there he's sitting on the toilet doing his duty. Well he looks over and sees three buttons. One is yellow, one is red and one is green. He pushes the yellow button and out comes water and sprays his behind. He thinks "wow that felt good, I'll press the red button". So he pushes the red button and out comes a powder puff and dries him off and powders him. So then he pushes the green button.. He passes out and wakes up in hospital. He looks up at the flight attendant and she says "you pushed the green button didn't you?" He nods.. He said "What happened?" She said "The green button was an Automatic Tampon Remover, your dick is laying under your pillow"
***
A guy stood over his tee shot for what seemed an eternity, looking up, looking down, measuring the distance, figuring the wind direction and speed... driving his partner nuts. Finally his exasperated partner says, "What the hell is taking so long? Hit the damned ball!" The guy answers, "My wife is up there watching me from the clubhouse. I want to make this a perfect shot." "Give me a break! You don't stand a snowball's chance in hell of hitting her from here."
***
A girl was intrigued at the kilt that a Scotts man was wearing, wondering what he would be wearing underneath. "What's underneath your kilt?", she asked him. "Why don't you take a look", he replied. Curiosity overcomming her, she lifted the kilt, then let it go, "Oh, it's gruesome!" "Well, why don't you take another look, it just grew-some more."
***
Sam and Becky are celebrating their 50th wedding anniversary. Sam says to Becky, "Becky, I was wondering - have you ever cheated on me?" Becky replies, "Oh Sam, why would you ask such a question now? You don't want to ask that question..." "Yes, Becky, I really want to know. Please..." "Well, all right. Yes, 3 times..." "Three? Well, when were they?" he asked. "Well, Sam, remember when you were 35 years old and you really wanted to start the business on your own and no bank would give you a loan? Remember, then one day the bank president himself came over the house and signed the loan papers, no questions asked?" "Oh, Becky, you did that for me! I respect you even more than ever, to do such a thing for me. So, when was number 2?" "Well, Sam, remember when you had that last heart attack and you were needing that very tricky operation, and no surgeon would touch you? Then remember how Dr. DeBakey came all the way up here, to do the surgery himself, and then you were in good shape again?" "I can't believe it! Becky, you should do such a thing for me, to save my life. I couldn't have a more wonderful wife. To do such a thing, you must really love me darling. I couldn't be more moved. So, all right then, when was number 3?" "Well, Sam, remember a few years ago, when you really wanted to be president of the golf club and you were 17 votes short..?"
***
A guy walks into a gas station and buys a pack of cigarrettes. He pulls one out and starts smoking it. The cashier says, "Excuse me sir, but you can't smoke in here." The guy says, "Don't you think it's kinda dumb that i buy them here but can't smoke them here?" And the cashier replies, "Not at all...we also sell condoms here."
***
A girl goes into the doctor's office for a checkup. As she takes off her blouse, he notices a red "H" on her chest. "How did you get that mark on your chest?" asks the doctor. "Oh, my boyfriend went to Harvard and he's so proud of it that he never takes off his Harvard sweatshirt, even when we make love," she replies. A couple of days later, another girl comes in for a checkup. As she takes off her blouse, he notices a blue "Y" on her chest. "How did you get that mark on your chest?" asks the doctor. "Oh, my boyfriend went to Yale and he's so proud of it that he never takes off his Yale sweatshirt, even when we make love," she replies. A couple of days later, another girl comes in for a checkup. As she takes off her blouse, he notices a green "M" on her chest. "Do you have a boyfriend at Michigan?" asks the doctor. "No, but I have a girlfriend at Wisconsin. Why do you ask?"
***
One night, as a couple lay down for bed, the husband gently taps his wife on the shoulder and starts rubbing her arm. The wife turns over and says "I'm sorry honey, I've got a gynecologist appointment tomorrow and I want to stay fresh." The husband, rejected, turns over and tries to sleep. A few minutes later, he rolls back over and taps his wife again. This time he whispers in her ear, "Do you have a dentist appointment tomorrow too?"
***
One morning while making breakfast, a man walked up to his wife and pinched her on her butt and said, "You know if you firmed this up we could get rid of your girdle." While this was on the edge of intolerable, she thought herself better and replied with silence. The next morning the man woke his wife with a pinch on the breast and said, "You know if you firmed these up we could get rid of your bra." This was beyond a silent response, so she rolled over and grabbed him by the penis. With a death grip in place she said, "You know if you firmed this up we could get rid of the postman, the gardener, the poolman and your brother.
***
There is this guy who's in the market for a used motorcycle. Always wanted a nice big hog. So he's shopping around, answering ads in the newspaper, and not having much luck. One day he comes across a beautiful classic Harley with a for sale" sign on it. Upon inspection, he is amazed to find the bike in mint condition. He inquires about it with the owner: "This bike is beautiful! I'll take it. But you gotta tell me how you keep it in such good shape." "Well," says the seller, "it's pretty simple. Just make sure that if the bike is outside and it's going to rain, rub Vaseline on the chrome. It protects it from the rain. In fact, since you're buying the bike I won't need my tube of Vaseline anymore. Here, you can have it." So the guy buys the bike and off he goes, a happy biker. He takes the bike over to show his girlfriend. She's ecstatic (being a Harley fan). That night, he decides to ride the bike over to his girlfriend's parents' house. It's the first time he's going to meet them and figures it will make a big impression. When the couple gets to the house, the girlfriend grabs her boyfriend's arm. "Honey," she says, "I gotta tell you something about my parents before we go in. When we eat dinner, we don't talk. In fact, the person who says anything during dinner has to do the dishes." "No problem," he says. And in they go. The boyfriend is astounded. Right smack in the middle of the living room is a huge stack of dirty dishes. In the family room, another huge stack of dishes. Piled up the stairs, dirty dishes. In fact, everywhere he looks, dirty dishes. They sit down to dinner and, sure enough, no one says a word. As dinner progresses, the boyfriend decides to take advantage of the situation. So he leans over and kisses his girlfriend. No one says a word. So he decides to reach over and fondle her breasts. He looks at her parents, but still they keep quiet. So he stands up, grabs his girlfriend, strips her naked, and they make love right on the dinner table. Still, no one says a word. "Her Mom's kinda cute", he thinks. So he grabs his girlfriend's Mom and has his way with her right there on the dinner table. Again, total silence. Then, a few raindrops hit the window and the boyfriend realizes it's starting to rain. He figures he'd better take care of the motorcycle, so he pulls the Vaseline from his pocket. Suddenly the father stands up and shouts: "All right, all right! I'll do the damn dishes."
***
An eighty year old couple decide to try for a child. They visit the doctor who asks the old geezer to produce a sperm sample in a bottle. After two weeks, the couple return and the bottle is empty. "What's the problem?" asks the doctor. "Well," says the old man, "First I tried it with my right hand, then my left. Then my wife tried it with her right hand, then her left. Then she tried it with her teeth in and with her teeth out, and we still can't get the lid off the bloody bottle." The truck driver was driving his fully loaded rig to the top of a steep hill. Just as he was starting down the equally steep other side, he noticed a man and a woman lying in the center of the road, making wild and passionate love. In total disbelief, he blew his air horn several times as he was bearing down on them. He realized that they were not going to stop or get out of his way, so he slammed on his brakes and stopped just inches from them. Furious, he got out of the cab and walked to the front of the truck. He looked down at the two, still in the road, and yelled, "What's the matter with you two? Didn't you hear me blowing the horn? You could have been killed!" Eventually, the man looked up at the truck driver, obviously satisfied and not too concerned and said, "Look, I was coming, she was coming, and you were coming. You were the only one with brakes........."
***
The kindergarten class had a homework assignment to find out about something exciting and relate it to the class the next day. When the time came for the little kids to give their reports, the teacher was calling on them one at a time. She was reluctant to call upon little Johnnie, knowing that he sometimes could be a bit crude. But eventually his turn came. Little Johnnie walked up to the front of the class, and with a piece of chalk, made a small white dot on the blackboard, then sat back down. Well the teacher couldn't figure out what Johnnie had in mind for his report, so she asked him just what that was. "It's a period," reported Johnnie. "Well I can see that," she said, "but what is so exciting about a period." "Damned if I know," said Johnnie, "but this morning my sister said she missed one. Then Daddy had a heart attack, Mommy fainted and the man next door shot himself."
***
Two old ladies were waiting for a bus and one of them was smoking a cigarette. It started to rain, so the old lady reached into her purse,took out a condom, cut off the tip and slipped it over her cigarette and continued to smoke. Her friend saw this and said, "Hey that's a good idea! What is it that you put over your cigarette?" The other old lady said, "It's a condom.." "A condom? Where do you get those?" The lady with the cigarette told her friend that you could purchase condoms at the pharmacy. When the two old ladies arrived downtown, the old lady with all the questions went into the pharmacy and asked the pharmacist if he sold condoms. The pharmacist said yes, but looked a little surprised that this old woman was interested in condoms, so he asked her, "What size do you want?" The old lady thought for a minute and said, "One that will fit a Camel!"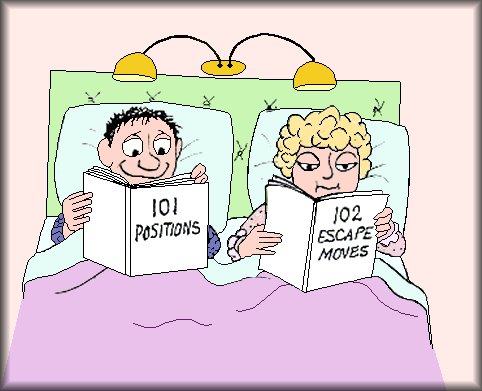 Here are some one-liner jokes about men, I think girls will have great fun while reading, but guys, just be patient, we will be taking revenge just afterwards... :)
Q- What is the difference between men and pigs?
A-Pigs don't turn into men when they drink.
Q-When is a man as smart as a woman
A-When he is plugged in to one.
Q- How come men never sink in water?
A- Shit floats.
WHY ARE MEN LIKE POPCORN ?
THEY SATISFY YOU BUT ONLY FOR A WHILE !
Why do women have more trouble with hemorrhoids than men?
Because God made man the perfect asshole.
How do you get a man to do sit-ups?
Put the remote control between his feet.
What's the difference between Bigfoot and an honest man?
Bigfoot has been sighted!
True facts about men!
1. If you think the way to a man's heart is through his stomach you're aiming too high.
2. Woman don't make fools of men -- most of them are the do-it-yourself types.
3. The best reason to divorce a man is a health reason:you're sick of him.
4. Never trust a man who says he's the boss at home. He probably lies about other things too.
5. A woman's work that is never done is the stuff she asked her husband to do.
6. If you want a nice man go for a bald one -- they try harder.
7. Go for younger men. You might as well -- they never mature anyway.
8. A man who can dress himself without looking like Wurzel Gummidge is unquestionably gay
9. Men are all the same -- they just have different faces so you can tell them apart.
10. Definition of a man with manners -- he gets out of the bath to pee.
11. Whenever you meet a man who would make a good husband, you will usually find that he is married
12. Scientists have just discovered something that can do the work of five men -- a woman
13. There are a lot of words you can use to describe men -strong, caring, loving -- they'd be wrong but you could still use them.
14. Men are like animals -- messy, insensitive and potentially violent -- but they make great pets.
15. Men's brains are like the prison system -- not enough cells per man.
16. There are only two four letter words that are offensive to men - "don't" and "stop"..
17. Husbands are like children -- they're fine if they're someone else's.
Why are all dumb Blond jokes one liners?
So men can understand them.
What's a man's idea of helping with house work?
lifting his legs so you can vacuum.
What's the difference between man and E.T.?
E.T. phoned home.
What did God say when he created man?
"I can do better than this".
How do men define a 50/50 relationship?
We cook, they eat. We clean, they dirty. We iron, they wrinkle
How do men exercise at the beach?
Every time they see a bikini, they suck their belly in.
Why is it good that there are female astronauts?
because if the crew gets lost, at least the woman will ask for directions.
Q: What's the speed limit of sex?
A: 68; at 69 you have to turn around.
Q: Why did Barbi get thrown out of the toy box?
A: Because she kept sitting on Pinocchio's face, and moaning, "Lie to me!"
Q: What is it when a man talks dirty to a woman?
A: Sexual harassment.
Q: What is it when a woman talks dirty to a man?
A: $3.99 a minute.
Q: What do a bungee jumper and a gay man have in common?
A: If the rubber breaks, they're both in deep shit!
Q: What are three words you dread the most while making love?
A: "Honey, I'm home."
Q: Why did the former porn actor get fired from his job as a gas station attendant?
A: Right before the tanks were full, he would pull out the nozzle and spray gas all over the car.
Q: What do a pizza delivery man and a gynecologist have in common?
A: They can both smell it but they can't eat it.
Q: Why are electric trains like a mother's breasts?
A: They were both designed for the kids, but it's the fathers who are always playing with them.
Q: What's long, hard, and has semen in it?
A: A submarine!
Q: What's the difference between a penis and a bonus?
A: Your wife will always blow your bonus!
Q: How many men does it take to put the toilet seat down?
A: Nobody knows, it hasn't happened yet.
OK, that was more than enough fun for you girls, now it's our turn...
How many men does it take to change a light bulb?
None. Let the bitch do the ironing in the dark.
Why did the woman cross the road?
That's not the point, what's she doing out of the kitchen?
What do you do if your dishwasher breaks down?
Kick her in the butt
How many divorced Women does it take to screw in a light bulb?
4,1 to screw in the bulb, 3 to form a support group.
What is the difference between a battery and a woman?
A battery has a positive side.
Why do men pass gas more than women?
Because women won't shut up long enough to build up pressure.
Subject: Book Reading
A couple went on vacation to a fishing resort up north. The husband liked to fish at the crack of dawn; the wife preferred to read One morning the husband returned after several hours of fishing and decided to take a short nap. The wife decided to take the boat out. She was not familiar with the lake so she rowed out, anchored the boat, and started reading her book. Along comes the sheriff in his boat, pulls up alongside and says, "Good morning, Ma'am. What are you doing?" "Reading my book," she replies as she thinks to herself, Is this guy blind or what? "You're in a restricted fishing area," he informs her. "But, Officer, I'm not fishing. Can't you see that?" "But you have all this equipment, ma'am. I'll have to take you in and write you up. "If you do that I will charge you with rape," snaps the irate woman. "I didn't even touch you," grouses the sheriff. "Yes, that's true ... but you have all the equipment ..."
Moral: never argue with a woman who knows how to read.